65th Anniversary Montgomery Bus Boycott Youth Video Contest

65 years ago the Montgomery Bus Boycott played a significant role in our history which still impacts us today. Montgomery youth will explore the effects it had from then to now.
Details and Official Rules

65th Anniversary of the Montgomery Bus Boycott Event Details
Images & Handouts
Watch live as we announce our 65th Anniversary of the Montgomery Bus Boycott Youth Video Contest winners! You can view this via our YouTube Channel at https://bit.ly/MGMBB_Video on Monday, December 7, 2020 at 4 pm.
Come back after the event to see the winning submissions video's here!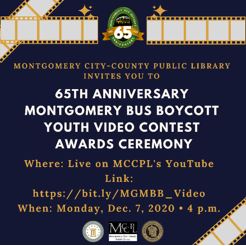 Submission Deadline Extended to November 29th!
Details and Official Rules:
What was the significance of the Montgomery Bus Boycott? What impact does it have on your life today?
All participants must be 6-18 years old and residents of Montgomery County.

Participants must agree to be videoed, photographed, and allow their creation to be used for the City of Montgomery and MCCPL publicity. MCCPL Release Form

Categories: Individual or Group which can be two or more youth.
---
Registration and Video Submission:
Registration with video submission must be submitted no later than November 29, 2020 at 11:59 pm via http://bit.ly/MBBVideoContest

The registration form may be used to register an individual or group.

Video's may be any size or length and submitted as an URL link.

Video name should read: (Name of individual or group) . (Name of video project)

MCCPL is not responsible for any corrupted, bad links, or undelivered entries.
---
The video should address the topic of the contest. See above: "Topic"

Late entries will not be accepted after November 29, 2020 at 11:59 pm.

Individual contestants may be a part of only one video submission. Either individual or group.

Submitted videos must be original, researched, compiled, and edited by the contestants.

Presentations may be created in a variety of ways: speech, interview, theatrical, song, art, animation, or etc. As long as it is submitted as a video, understood by the viewer, and addresses the topic.

The video should contain a credit reel of all participants and their role in the creation of the video.

If needed the video should contain a works cited for any images, music, quotes, or content taken from sources not original to the creator of the piece.

Videos that contain images or language that is profane, racially insensitive, and/ or sexually provocative will be disqualified.
---
YOU are the best resource for this topic. If you need more information check out these resources.

Library: Check out some books! Library curbside service is open to pick up books that are placed on hold. Go to our catalog at mccpl.lib.al.us to place a book on hold.

Online Databases: Go to the Research/Learning tab and click Databases A-Z on mccpl.lib.al.us.

Databases to search for:

Encyclopedia of Alabama

Gale Biography in Context

Newsbank

Oxford African American Studies Center

Gale in Context: Opposing Viewpoints

Alabama Virtual Library: Alabama Mosaic and/or Ethnic News Watch

Works Cited: https://owl.purdue.edu/owl/purdue_owl.html

Video tips: Edit or create with PowerPoint, Youtube, Cyberlink or Microsoft / Apple product video editors.
---
Individual:

1st place: Chromebook

2nd place: Chromebook

3rd place: $50

Group:

1st place: $300

2nd place: $150

3rd place: $50

Winners will be notified by email.

Winning submissions will be publicized and shown during the 65th Anniversary of the Montgomery Bus Boycott celebration from December 1st through December 7th.
---
---
65th Anniversary of the Montgomery Bus Boycott Event Details
---
Event Sponsors
---