Pike Road Branch Library
ADDRESS AND PHONE
9585 Vaughn Road
Pike Road, AL 36064-2292
(In Pike Road Station next to Subway)
244-8679
https://www.facebook.com/PikeRoadBranchLibrary/
Mailing Address:
P.O. Box 640036
Pike Road, AL 36064
HOURS
Monday - Friday: 9 AM – 6 PM
Saturday & Sunday: Closed
---
Masks Required in All City Facilities
Post Date: 07/30/2021
MONTGOMERY – Effective immediately, the City of Montgomery will require masks in all municipal facilities.
This policy is in accordance with the latest data and recommendations from the Centers for Disease Control and Prevention.
For more information on Montgomery's COVID-19 response as well as no-cost vaccination clinics, please visit www.mgmready.com.
Storybook Time
Storybook Time for Age 3 through 6 – Tuesdays at 10:30 a.m. and 3 p.m. At Storybook Time, we sing a few songs, read one or two picture books and make a craft.
---

Library Resource Expo for Home Schooling Families

Librarian 1 Matt Williams will introduce home schooling families to the many educational resources offered by the Montgomery City-County Public Library.
For more information contact: Matt Williams, Librarian 1 at 334.625.4886 or cmwilliams@mccpl.lib.al.us or via message to the Pike Road Branch Library Facebook page - https://www.facebook.com/PikeRoadBranchLibrary
---
Book Clubs
Pike Road Bookies – Our adult book club continues throughout the summer. Check our Facebook page or join our email list for updates about book clubs.
---
Book Clubs
Bookies – The Pike Road Bookies meet on the third Thursday of each month.
---
Map and Directions

---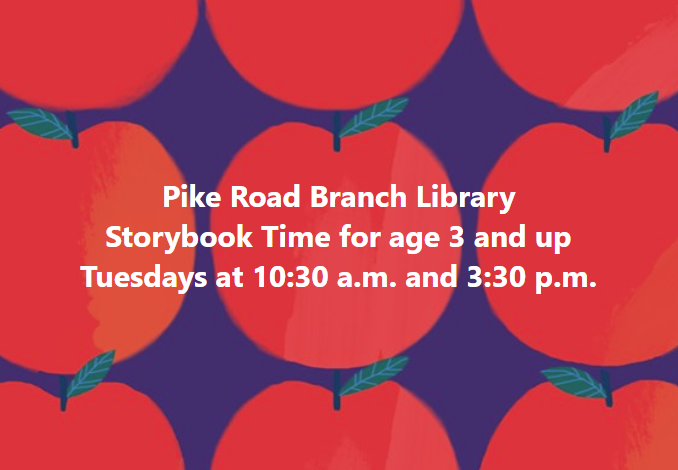 ---
---