July Contest
Pike Road Branch Library
ADDRESS AND PHONE
9585 Vaughn Road
Pike Road, AL 36064-2292
(In Pike Road Station next to Subway)
244-8679
https://www.facebook.com/PikeRoadBranchLibrary/
Mailing Address:
P.O. Box 640036
Pike Road, AL 36064
HOURS
Monday through Friday 9 AM - 6 PM
Saturday & Sunday: Closed

facebook.com/pikeroadbranchlibrary
---

Submit an original animal tale through an oral telling or written story. Video or audio submissions should be no longer than 5 minutes and written stories no longer than 2 pages. Submit your piece by July 21st. Public voting will take place from July 23rd - 29th. The winner will receive a $10 gift card awarded on July 30th
Event: To Go Kits - July
Date(s): Monday through Friday, all month (While supplies last)
Time: 9 AM until 6 PM
Location: Pike Road Branch Library
Sky Tails and Tales
Create the perfect home for your feathered tailed friends in your neighborhood. Piece together a DIY natural wood birdhouse. Reinforce with glue and decorate at home! Available at your local library while supplies last. Craft kits will be available from each location in the Montgomery City-County Public Library system, including the Pike Road Branch Library.
For more information contact: Matt Williams, Librarian 1 at 334.625.4886 or cmwilliams@mccpl.lib.al.us or via message to the Pike Road Branch Library Facebook page - https://www.facebook.com/PikeRoadBranchLibrary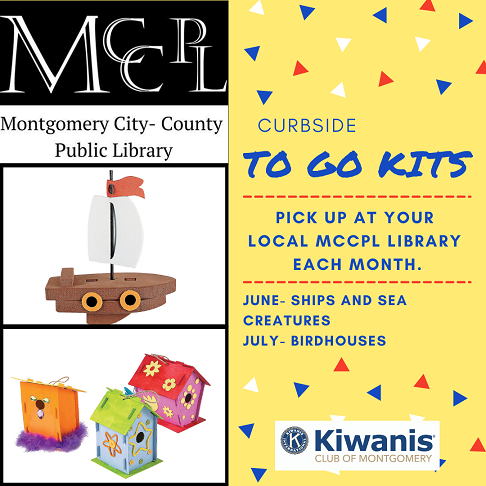 ---
Storybook Time
Storybook Time for Age 3 through 6 – Tuesdays at 10:30 a.m. and 3 p.m. At Storybook Time, we sing a few songs, read one or two picture books and make a craft.
---
Book Clubs
Pike Road Bookies – Our adult book club continues throughout the summer. Check our Facebook page or join our email list for updates about book clubs.
---
Book Clubs
Bookies – The Pike Road Bookies meet on the third Thursday of each month.
---
Map and Directions

---
Friends of the Pike Road Branch Library
Friends of the Pike Road Branch Library offer support for the library in many ways. We do volunteer work at the library, and help with National Library Week in April. We work with the children's summer reading program, have a trim-a-tree party for the children at Christmas. We also provide area maps to anyone requesting help, promote an adult speaker program at least three times a year, and are presently involved in a beautification project for the library grounds.


Volunteers are needed to shelve books, create bulletin boards, read for story time, teach crafts, baking for library events and computer assistance. For further information and questions, please call the president.

Memberships are our only source of income and these funds are used to purchase new books, for children's activities, to provide speakers, publicity cost and other items as needed. We keep library members informed of activities and events through phone calls and a newsletter published twice a year.

Our membership year runs from May 1 through April 30 and membership fees are:
Individuals $5.
Families $10.
Lifetime $100.
Memberships may be mailed to the treasurer, Sarah Kelley, 875 Timberlane Road, Pike Road, AL 36064 or left at the library.
Our meetings are held on the third Thursday of each month at 10:00 at the Library. Won't you consider joining us?
---