The Montgomery City County Public Library (MCCPL) is thrilled to announce the full reopening of all MCCPL libraries on Monday, June 7, 2021 at 9 am.Visit our reopening page for details!
Masks Required in All City-County Facilities
Post Date: 07/30/2021
MONTGOMERY – Effective immediately, the City of Montgomery will require masks in all municipal facilities.
This policy is in accordance with the latest data and recommendations from the Centers for Disease Control and Prevention.
For more information on Montgomery's COVID-19 response as well as no-cost vaccination clinics, please visit www.mgmready.com.
Database and E-Book Additions Are Now Available on AVL (Alabama Virtual Library)
September 2021 Digital Edition of BookPage
Access our 24/7 online resources with a library card under the Books/Audio/Digital tab. Online resources such as:
---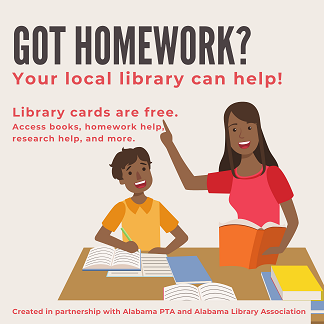 Call Your Local Library Campaign
---