2021 Voices in Black History Speech Competition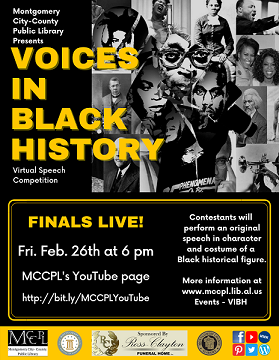 2021 Voices in Black History Speech Competition
Montgomery City-County Public Library celebrates the 9th Annual Voices in Black History Speech Competition. Contestants will research and present themselves as Black historical figures through Zoom live.
---
Preliminaries: February 1 –12, 2021
Finals: February 26, 2021 at 6 pm
Submission deadline Wednesday, January 27, 2021 at 11:59 pm.
Create your own user feedback survey
---
Contestants will write and perform an original speech in character and costume of a Black historical figure.
---
Open to students in grades 3-12, who are residents of Montgomery County.

Participants must agree to be videoed, and photographed for the purpose of promoting the City of Montgomery and MCCPL services and programs.

Individual submissions in the categories of 3rd–6th grade or 7th-12th grade.
---
Register at https://www.surveymonkey.com/r/ViBH
Registration with a bibliography/works cited must be submitted no later than 11:59 pm, Wednesday, January 27, 2021.

MCCPL is not responsible for any corrupted, lost, or undelivered entries.
---
Monday, January 4 – Wednesday, January 27, 2021 at 11:59 pm– Registration

Monday, February 1– Friday, February 12, 2021 – Preliminary Competition – Zoom by Appointment

Monday, February 15 – Friday, February 19, 2021 – Speech Practice – Zoom by Appointment

Friday, February 26, 2021 at 6 pm – Final Competition – Zoom live

Contestants should sign-in no later than 5:30 pm to Finals.
---
Chosen historical figure cannot be changed once submitted.

Contestants will wear a costume and present the speech as the person they have chosen to become.

Speeches given about the person will have points deducted.

Visuals and props may be used but are not required.

Speeches and costumes that are racially insensitive and /or sexually provocative will be disqualified.

Individual contestant must research and write his or her own presentation.

Speeches must be original. Participant cannot simply memorize a known work by their chosen person.

Participants reading a speech from paper or electronic device will have points deducted.

Students may not be prompted or coached from the audience during their presentation.

Speech length shorter or longer than time allowed will have points deducted.

3 to 5 minutes in length for 3rd-6th grade

4 to 7 minutes in length for 7th-12th grade

Presentations must be given live. Video recordings, screen shares, and PowerPoint are not acceptable.

A bibliography/works cited of reasearch materials used can be uploaded in the registration form as a pdf, doc, docx, png, jpg or jpeg format. Points will be deducted for no bibliography.
---
Speeches will be scored based on proficiency in the following categories:

Costume

Becoming the Person the Speech is About

Preparation

Eye Contact

Organization of Speech

Vocal Quality: Grammar, Diction, Voice

Presence

Level of Creativity

Presentation Length
Bibliography/works cited
---
· Research help: Call the Reference Department at (334) 625-4992
· Library: Check out some books! Library curbside service is open to pick up books placed on hold. Go to our catalog at mccpl.lib.al.us to place a book on hold.
Look for books on

Biographies: Search by Historical Figures name

Costumes

Public Speaking

MLA, APA, or Chicago Style Manuals for Research Papers

Online Databases: Go to the Research/Learning tab and click Databases A-Z on

mccpl.lib.al.us

.

Databases to search for:

Gale Biography in Context

Encyclopedia of Alabama

Oxford African American Studies Center

Alabama Virtual Library: Alabama Mosaic Encyclopedias

Works Cited:

https://owl.purdue.edu/owl/purdue_owl.html
---
Prizes awarded to the top three in each of the following categories: 3rd-6th grade and 7th-12th grade.

1st place: Dell Chromebook 3100
2nd place: $100
3rd place: $50

Contestants may only win in each category once.

Winners announced at the Final and be notified by email.
---
· Questions regarding the contest and submission of content may be emailed to sfoster@mccpl.lib.al.us.
---
Download any of the following images and pdfs to share with your friends.
---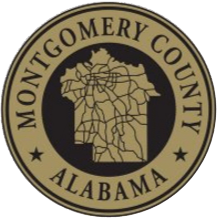 ---